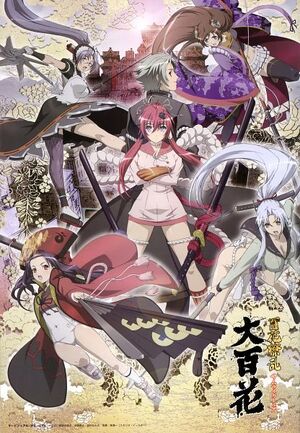 "Hyakka Ryōran: Samurai Girls," also known as "Samurai Girls," is a light novel series written by Akira Suzuki with illustrations by Niθ to commemorate Hobby Japan's 40th anniversary. The first volume was released by Hobby Japan on February 28, 2009, with twelve volumes currently available in Japan as of August 30, 2012 under their HJ Bunko imprint.
"The story takes place in Japan in the early 21st century, in an alternate reality where the Tokugawa Shogunate has remained in power. In this reality, student councils are tasked with oppressing schools. Yagyu Muneakira is a high school student who rebels against his student council with the help of girls who've had the names of famous samurai heroes passed on to them."
There are currently three different manga adaptations based on the Hyakka Ryoran universe published. An online anthology comic was serialized on Hobby Japan's media website Hobby Channel from June 1, 2010 and sold two volumes as of June 25, 2011; a manga adaptation illustrated by Junichi Iwasaki began serialization in the November 2010 issue of Monthly Comic Alive; and another manga adaptation by Tatara Yano began serialization in Hobby Japan's online manga magazine Comic Dangan on December 23, 2011.
A spinoff manga known as Hyakka Ryōran: Sengoku Maidens, illustrated by Yuri Shinano, was serialized in the March 2009 issue of Dengeki Daioh and ended in the March 2011 issue, and released three volumes as of March 2012.
A 12-episode anime adaptation produced by ARMS aired on Chiba TV and other networks from October 2010 to December 2010. A second anime season has been announced. At Anime Expo 2010, Hobby Japan announced that they are planning to release the light novels in North America in the near future.
The first season of the anime shared the same name as the light novel.
The second season, titled Hyakka Ryouran: Samurai Bride.  This season began airing on April 27, 2013.
The series is loosely based on the Sengoku period or early Edo period of Japan, despite being set in the present day.